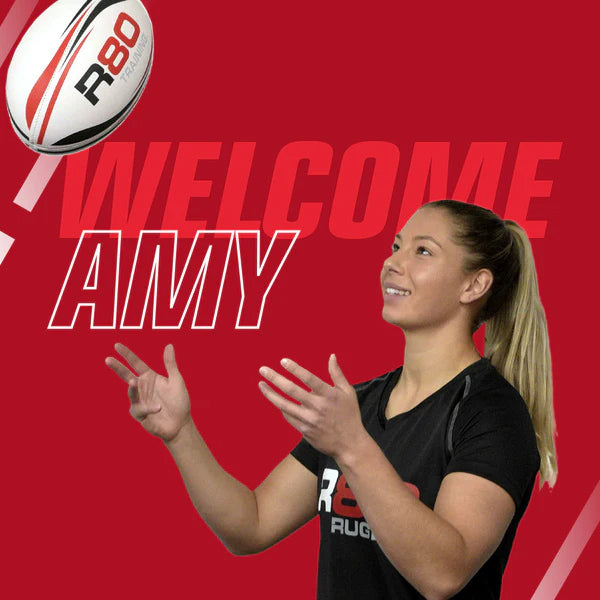 "R80 sports equipment stands out for its exceptional quality and durability. Whether
it's their precision-crafted gear or innovative designs, R80 consistently delivers top-notch performance, making it the preferred choice for athletes who demand excellence in their equipment. R80 aligns with my values such as authenticity, hard work and people first approach and I'm honoured to be partnered with them."
Amy du Plessis
Welcome to R80 Sports
Proudly 21 years old and still a 100% New Zealand family owned & operated Canterbury business. 
Starti
ng from supplying only one fitness product in 1997, our dedicated fitness and conditioning brand, XLR8, has grown significantly to now offer New Zealand's most comprehensive range of fitness and conditioning products.

Leveraging our genesis as strength and conditioning professionals in Rugby and Rugby League, 2009 saw the birth of our dedicated Rugby supply division, R80 Rugby, which in turn led to the creation and launch in 2017 of our newest venture, R80 Teamwear, offering on and off-field teamwear and uniforms for all sports.

Still a 100% privately NZ owned and operated business, we're excited to now combine our offerings under the R80 Sports brand, whilst still providing single brand presences for our R80 Rugby and XLR8 ranges. This allows us to expand our product offering into the wholesale, corporate and Government business markets.

You will see R80 Rugby, XLR8 and R80 Sports in areas of sport, fitness and education. Our product ranges reach from preschool Rippa Rugby through to international level sport, supplying on and off-field teamwear and uniforms and fitting out commercial gym networks.

All our products are available online via dedicated websites that best serve the needs of each customer. You may also see R80 Sports products on one of our distributor websites and in sports shops throughout New Zealand.

Much of our training range is manufactured in New Zealand, and we also import directly through partner factories based in Pakistan, India, China and Taiwan, via long-standing successful supply partnerships.

Our modern head office building location houses a fully stocked 800sqm warehouse and incorporates a fitness Rugby and Teamwear retail showroom and inter-active space. We also provide dedicated sales team meeting spaces for our customers, and 12 visitor car parks in support.
All our products are dispatched from our warehouse, with a dedicated team of logistics specialists operating this function.

Aside from the standard R80 Rugby, XLR8 and R80 Sports group product ranges, we also offer event specific and corporate bespoke manufacturing and importing. R80 Rugby proudly supplied a wide range of equipment to the 2011 Rugby World Cup, with XLR8 supplying tournament team needs for the FIFIA Junior World Cup. Drop us a line,or visit the group website that best meets your needs.
Wholesale and export enquiries are most welcome.
Many thanks

Glenn Jenkins
General Manager PS Give me a call direct anytime 0294 995 738.